In this article we'll look at what local SEO is and how to get started with it or how to improve local SEO results for your website.
Some 92% of searches are done on Google (Statista, June 2021), so this article will focus largely on this platform.
WHAT IS MEANT BY LOCAL SEO
Local SEO (search engine optimisation) is the process of optimising websites and web pages of businesses which supply to a local area, as opposed to nationally or internationally.
Local SEO is relevant for companies like barbers, vets, beauticians – the sort of places that tend to have a physical walk in address and need to market their services to a local area.
Local businesses rely less on building backlinks to their websites to build authority and more on reviews and profiles in directories and citations.
GOOGLE LOCAL SEO TECHNIQUES
In Google search results, local business listings appear in one of two places.
In local SEO packs, listings include information such as:
Business Name, Address, Phone Number, Link To Website, Business Category, Opening Hours, Directions & Map, Reviews, Photos. They may also include Check Availability, Similar Queries, Popular Times, Live Traffic, Wikipedia Extract.
LOCAL SEO 3 PACK
These appear in the flow of search engine results pages (SERP) and typically list 3 local businesses, hence the name 3 pack, although more results are increasingly being seen in this pack.
LOCAL SEO KNOWLEDGE PANEL
Another local SEO pack can appear in the sidebar of the SERPs page. This will usually appear if you search specifically by name for a business, rather than a more vague search such as xyz near me, and is known as the knowledge panel.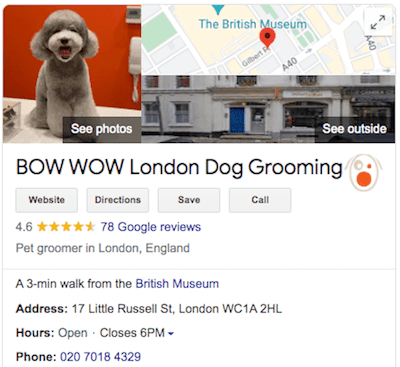 HOW TO DO LOCAL SEO EFFECTIVELY
There are some differences between the SEO done for local businesses and that done for non-local ones. Local SEO, as we saw above, has the benefit of additional placements in SERPS, which only local businesses can access. Whilst local businesses can also access backlinks and keyword based rankings, knowing how to do local SEO effectively means understanding and making use of the Local SEO specific opportunities.
GOOGLE MY BUSINESS
When learning how to improve local SEO results, Google My Business (GMB) is a essential tool. It is provided free by Google and it allows you to submit your business details to Google for inclusion in local searches.
In order to use Google My Business it's crucial you have an NAP – that's Name, Address, Phone Number for the business. And this information should be on your website – in the footer is probably best, so it appears on every page.
NOTE – For local SEO, the NAP must always be written the EXACT same way on your website, in your Google My Business account, on other websites such as review sites, on directory sites and in every citation. This means literally down to the last dot and comma – for example, use Street or St. but ALWAYS use the EXACT SAME one everywhere.
When deciding on keywords for your Google My Business listing, ideally include your Google My Business Category and your location i.e. Accountant in Westminster. This should appear in descriptions, image titles and wherever appropriate, but NOT necessarily in the business name (see below).
NAME
Use your real full business name – if you try to optimise it by adding keywords or location that don't actually belong in the real, registered business name, Google may penalise you.
ADDRESS
Give longitude and latitude coordinates too for your business address – use GeoSetter (Windows only) or GeoImgr
PHONE NUMBER
Ideally give a local number rather than a mobile if possible.
OPENING HOURS
Keep this updated for public holidays like Easter, Christmas etc.
CATEGORY
If your category isn't listed, check what your competition is using via a Google search around your keywords. Add secondary Categories under the Info link in the sidebar.
SERVICE
Add several services, and use keywords and location.
SERVICE DESCRIPTION
Use the same keywords and location as used in the Service heading, and place it early in the text. Also it's important to use a unique Service description for each Service, don't just copy/paste the same one to all.
BUSINESS DESCRIPTION
Combine Category, Service and location keywords, but avoid being spammy
PHOTOS
Upload a logo, cover photo, team photo and film
Photo sizes is 1200 x 900px.
The more photos the better – at least 3 interior, 3 exterior, 3 team, 3 products.
Image titles and descriptions should include business name, and keywords with category, services, location.
Add geotagging longitude and latitude using GeoSetter or GeoImgr to all the photos.
ADD A POST
You have the option of adding posts for – Update, Event, Offer, Product
Post consistently and keep posts up to date.
For the Title and Photos, use keywords and set an end date in the future, otherwise posts expire in 7 days
CREATE A FILM
Create a 360 degree film of your business to put on your Google My Business account. This is not essential but it will certainly help in how to improve local SEO results for your website, as video has been found to be a huge converter. And a video can be especially good for those who receive customers on their premises, like restaurants, and shops. You can hire someone to make a film for you, or hire a camera from Google and do it yourself, or use your Android or ios mobile with an app.
POST REGULARLY
Post consistently. Post every day, even several times a day. Google wants you to be active on their platform and wants to see recent photos, films, reviews, and so on. Google actively promote new posts and you'll usually see a spike in traffic in your analytics soon after you've uploaded a new post.
LOCAL SEO RANKING FACTORS
The ranking factors that Google uses to rank a local business for local SEO in SERPS includes:
PROXIMITY
The most important local SEO ranking factor is proximity. Google will list the closest business corresponding to the search query first.
Ensure your address is included on your website and Google My Business account to make sure you don't miss out on this crucial local SEO ranking factor.
CATEGORY
Category is obviously also an important local SEO ranking factor. The category listed in your Google My Business account needs to match the keyword being searched in the Google search.
ONPAGE SEO SIGNALS
Onpage SEO signals are organic onpage signals on your website and web page. They include keywords and content, which give an indication to search engines what your web page, and therefore business, is about. See below on how to optimise local onpage SEO.
LOCAL SEO ONPAGE OPTIMIZATIONS
Onpage SEO optimisation includes the correct organic use of keywords and content to indicate to search engines what your web page is about. As for non-local SEO strategies, the right keywords and their correct palcement is important for how to improve local seo results too.
For successful local SEO onpage optimisation, ensure your website and web pages follow the following guidelines:
have NAP in footer of every web page
on your homepage include location and categories keywords as used in your Google My Business account
on all website images include business name and location in the alt text and anchor text
create a web page called 'business category in location' i.e. Accountant in Westminster and include the following on that page:

page title heading (H1 tag) – use 'business category' in 'location' keywords
paragraph with blurb which includes Google My Business additional categories keywords
your business address and phone number
an embedded Google Map
hours of operation as listed in Google My Business – day by day
link to every one of the major citation sites where you are listed
a section for 'Proudly Serving… ' in which you list areas and include links to that area. These area links might be to important landmarks, the town hall, historical features, something that identifies the area i.e. Westminster Town Hall
photos of your premises – add image title and alt text which includes business name and location
make a youtube video and name it 'business category in location'
MAINTAINING GOOGLE MY BUSINESS
Google, like all platforms, likes people to use their services as much as possible, so be active on your Google My Business account if you want improve local seo results.
Post regular posts with offers or events, update photos, makes sure to change opening hours over holidays and reply to reviews and comments. Think of it like another social network.
The more active you are on Google My Business the more likely you will be rewarded by Google with higher rankings or having your details promoted more often.
CITATIONS FOR LOCAL SEO
Citations are online mentions of your business details – name, address, phone number. Citation listing can be in business directories, on websites, on social media platforms, in author profiles on guest blogging posts, in podcast guests listings and so on. Anywhere where your business details are set out.
Citations are a great, and often free, way of how to improve local seo results. When completing citation entries remember to always use the EXACT same NAP as on your website and in your Google My Business account.
Try to ensure that citations links are clickable, and link back to your website.
Extensive lists of citation sites for local SEO can be found at:
Whitespark
BrightLocal
My Local Forum
Semrush is an SEO tool with many different uses, and amongst these is a listings management tool which will let you automatically list on a number of platforms, making the whole process a lot faster.
Not having the EXACT same NAP in all your citations may impede your efforts in local SEO, so doing a citation audit can be useful, to change all details to be the same.
Unless your business is new there could be hundreds of citations out there, many of which you could have forgotten about, so although you can do a citation audit manually, in some cases this may be a real headache. Luckily there are tools to help with this:
BrightLocal citation tracker
Moz tools listings checker
LOCAL SEO REVIEWS & RATINGS
Reviews and ratings are amongst the most important local SEO ranking factors which influence potential customers and help in how to improve local seo results.
Forbes found that 84% of people trust online reviews as much as if they were a personal recommendation from a friend.
Encourage past clients to leave a review. To make it easy for them, provide a simple link which they can click on to be taken directly there. A link is available from within Google My Business or alternatively from Whitespark
GETTING LOCAL SEO REVIEWS
When you ask customers for a review give a reason – it's been found that even a silly reason gets better results than no reason at all i.e. it helps other customers like you to find us, and we'd be very grateful for it.
Note – its against Google policy for you to incentivise reviews by giving a discount or a freebie. But you can incentivise your staff for every review they bring in. You can offer a staff bonus, and it's fine for your staff to tell customers that they will get a bonus if the customer leaves a review. This also appeals to people's natural nature of wanting to help others and feeling magnanimous.
It's usually best to ask for a review in person or on the phone. And the best time is just after they have complimented you or offered an indication of a positive experience around working with you. Follow up with an email providing a link direct to where they can leave the review.
Some people find it hard to ask in person, and it's also ok to ask via email. You won't have the advantage of catching them when they are expounding your virtues, but it's been found that if you send an email request between 1pm-3pm that people are more likely to follow through by about 20%. Include a link to the review page.
If for some reason you don't receive a review after a few days from someone you felt sure was happy with your work, follow up with an email letting them know that they can just leave a star rating rather than a written review.
When you do get reviews, respond to each one – whether positive or negative.
FINAL LOCAL SEO TIPS
Local SEO, like all SEO, can take time to become effective, so be patient and continue building your citations and your online profile even if you don't see results straight away.
Make sure your website also conforms to general SEO good practice, like mobile responsiveness, fast page load speeds, proper search engine indexing, correct meta data.
Use analytics tools to track your performance as well as keeping an eye on your competitors performance, keywords and ads.
The most important steps for how to improve local SEO results is to optimise your citations and keep posting on your website and on social media to build awareness of your products and services, and to build a brand.
How To Improve Local SEO Results July 2021